Storytellers.
Passionate.
Experienced.
Helping businesses create immersive and collaborative data storytelling throughout the world for more than 30 years. We help businesses get their messages across by turning their 2D charts into interactive simulations in augmented reality data visualizations. See beyond the data into persuasive understandings, judgments, and visions that capture the imagination…
TURN KNOWLEDGE INTO UNDERSTANDINGS – BECAUSE DATA DOESN'T EXPLAIN ITSELF!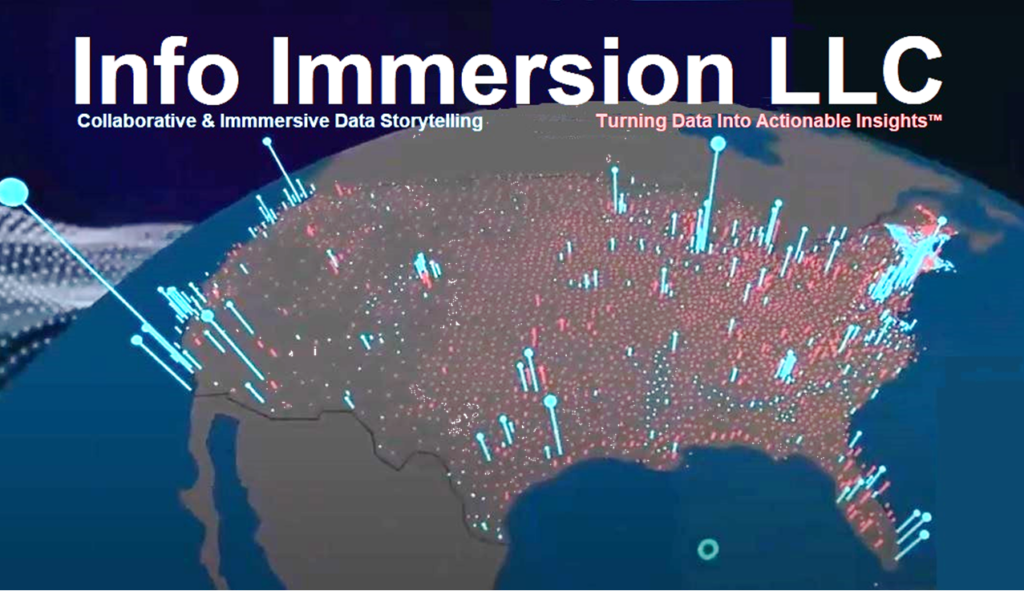 Helping the leaders of successful business become data driven by telling visually compelling data stories.
Info Immersion is tremendously proud of the impact that we have made in helping our clients by providing professional immersive and collaborative data visualization services. Our team are leaders in the field and work with the latest Virtual Reality [VR], Artificial Intelligence [AI], Machine Learning [ML] and Advanced Predictive Analytics in created persuasive applications that run on any device. We author, present, and share immersive, interactive data stories that persuade your audience and drive data-driven decisions. We do this from a browser – in-person or remote – live meetings or self-guided.
We are confident that our team's unique experiences and information integration focus will absolutely be an asset to your business.
Contact Us
info@infoimmersion.com

Our Services
Storytelling Development
We assist our customers in developing compelling data storytelling that persuades.
Data Discovery & Integration
We find and integrate the data for our clients that tell the story that they desire.
Enabling Data Driven Business
We drive organizations in learning how to use data to innovate and make impactful business decisions.